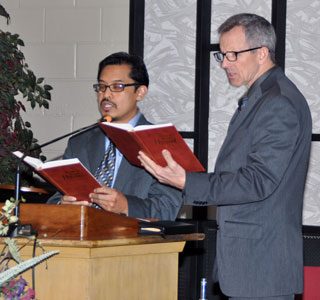 The church service in the Laurelbrook Seventh-day Adventist Church on December 30, 2017 began with Jester Felarca welcoming everyone and making a few announcements. Keep in prayer the list of people needing prayer on the back of the church bulletin. In addition, keep those who work in the nursing home in prayer. There will probably be no vespers in the church this evening.
Jacqueline Miller played an introit. The congregation had a silent invocation.  The congregation then sang "I Love to Tell the Story". Jester Felarca then had the Morning Prayer; the congregation sang "Hear Our Prayer".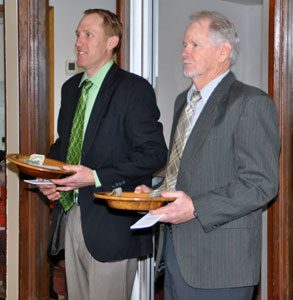 Jester Felarca then called for the offering.  John and Daryll Ellis then collected the morning offerings; the loose offering went to the local church budget.  The congregation sang the doxology, and Jester Felarca prayed for the offering.  
Jester Felarca then read Matthew 5:43-46 "43 ¶ Ye have heard that it hath been said, Thou shalt love thy neighbour, and hate thine enemy. 44 But I say unto you, Love your enemies, bless them that curse you, do good to them that hate you, and pray for them which despitefully use you, and persecute you; 45 That ye may be the children of your Father which is in heaven: for he maketh his sun to rise on the evil and on the good, and sendeth rain on the just and on the unjust. 46 For if ye love them which love you, what reward have ye? do not even the publicans the same?"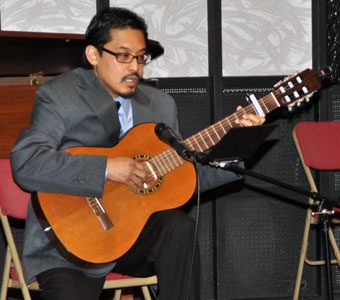 Jester Felarca sang a vocal solo about longing for a pure heart, accompanying himself on the guitar for special music. Pastor Mark Cox discussed the topic "Overcoming the Enemy God's Way". The congregation sang "Take the Name of Jesus With You".   Jester Felarca had the closing prayer. 
Personnel Other Than Students:
Jacqueline Miller – semi-retired nurse living on the Laurelbrook campus
Jester Felarca – works as a C.N.A. in the Laurelbrook Nursing Home
John Ellis – local church deacon / retired mechanic / former Laurelbrook staff member
Pastor Mark Cox – Laurelbrook church pastor
Following are some notes on the sermon by Pastor Cox:
1. We don't have the luxury of avoiding enemies.
2. God wants life, love, and peace, but even He cannot avoid His enemies. 
3. So how do we overcoming our enemies God's way?
4. A just war means a just cause (reason) for the war, just means (being ethical about it), and just end (leave the conflict with restoration of basic services and government).
5. The game of chess is motivated by conquest and destruction of your enemy – Ellen White couldn't recommend this game.
6. What is God's territory and how can we protect this territory and gain an advantage over Satan?
7. Some believe that you should overcome your enemy and utterly destroy him.  
8. But the right character overcomes an enemy as well by allowing a person to live with an enemy.  Development of character prepares us for the Last Days.
9. The principle of selfishness and sin goes against God's great principle of love. God overcomes evil by love.
10. Romans 8:17-21 "17 ¶ And if children, then heirs; heirs of God, and joint-heirs with Christ; if so be that we suffer with [him], that we may be also glorified together. 18 For I reckon that the sufferings of this present time [are] not worthy [to be compared] with the glory which shall be revealed in us. 19 For the earnest expectation of the creature waiteth for the manifestation of the sons of God. 20 For the creature was made subject to vanity, not willingly, but by reason of him who hath subjected [the same] in hope, 21 Because the creature itself also shall be delivered from the bondage of corruption into the glorious liberty of the children of God."
11. We should build bridges even with those in our communities so that in the Last Days they can see we as believers mean no harm.
12. Christians don't destroy the world around them.
13. Matthew 5:8-12 "8 Blessed [are] the pure in heart: for they shall see God. 9 Blessed [are] the peacemakers: for they shall be called the children of God. 10 Blessed [are] they which are persecuted for righteousness' sake: for theirs is the kingdom of heaven. 11 Blessed are ye, when [men] shall revile you, and persecute [you], and shall say all manner of evil against you falsely, for my sake. 12 Rejoice, and be exceeding glad: for great [is] your reward in heaven: for so persecuted they the prophets which were before you."
14. Build bridges with people instead of burning them.
15. John 1 talks about God being a God of love and doesn't go around destroying His enemies. We settle the issue in our own minds by making a final decision about which side of the Great Controversy we are on.
16. Christ's encounters with people in the Old Testament didn't stop sin so He came incarnate as a baby to show us the true character of God. How could Satan defeat a baby and look like a conquering general?
17. Ellen White says that when Jesus came into the world Satan's power was turned against him. Satan attacked Christ every time and in every way he could.  Jesus came closer to His Father as Satan attacked.
18. You cannot avoid the final conflict, but if Jesus is living in your heart and you suffer, the more Satan's character is revealed.
19. After the Cross, Satan was not destroyed because not all in the universe understood what the conflict was all about.
20. For your sake, Satan lives today to show the contrast between Satan's ways and God's ways.
21. You gain the advantage over Satan when you follow these principles.